Become a TYPM
Sharing Circle Host
We are excited to explore circle hosting with you!
Read the information here and complete the application form at the bottom of the page.
The team will review your form and get back to you with either the next steps to hosting now or suggestions to best prepare you for hosting in the future.
In the meantime, we welcome you to join the current Sharing Circles.
WHY BE A TYPM CIRCLE HOST?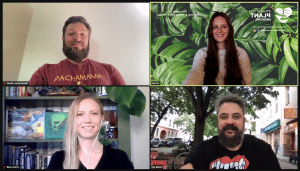 It is so fulfilling to be able to hold space for others, and facilitate a loving atmosphere where people can come together to support and learn from each other. We are all mirrors for each other, and when a feeling of trust and integrity is cultivated in the circle, participants feel comfortable in sharing vulnerable feelings and this is a huge opportunity for deep healing for everyone involved. Over time, a sense of family develops in each circle, and lifelong friendships are formed. We are seeking people who are willing to step into this important role of hosting and leading circles.
Being TYPM Circle Host is being part of something very special. As a host you are welcomed into the TYPM Team and offered the opportunity to contribute to all we are creating. You get to engage with all of us and make some amazing new friends. Aside from the personal relationships we know you will make, being a part of this team adds another branch to your social tree. Most of us are regular space holders who are usually in a teaching or support role. Here you will connect with like-minded peers and be able to have personal and professional support from people who are in your peer group.
A tenet of ours is ensuring we as hosts are well taken care of. To accomplish this we offer space for you to process and integrate what is happening in your circles and personally in your life. We are truly here for you. Yet another wonderful benefit of being a host is the experience and exposure you will gain. Practice makes better and we get where we want to go by actually taking steps, not just thinking about taking them. Every time you take a step with us you are learning and growing as a person and host.
Our network is quite large, and with the help of incredible and gracious people like you we are ever expanding. Having the TYPM name behind you gives you exposure to our audience and the many webs of connections that we have weaved over the years. Our name also comes with a trust in quality and integrity that we have built and continue to stand behind. As a new host you will be trained and held to our high standards. Once you become an established host you can carry the ThankYouPlantMedicine name with you. Associating yourself with us is an impactful way to create trust in those you work with and adds to your reputation as a sharing and integration circle host.
WHAT IS THE PROCESS?

1
APPLY
Complete the Host Application at the bottom. You will receive an email confirmation that your application has been submitted. We are all volunteers, please allow about a week for us to review your application and contact you by email with more information. 
If we feel you are a fit for TYPM and ready to begin the New Host Training, we will send you a welcome email with everything you need to get started!
2 
TRAINING
The New Host Training is a multi step process that guides new hosts through the structure, guidelines, and  technological requirements of hosting, as well as self-inquiry and reflection to help develop your personal style of hosting.
The New Host Training is password protected and only available to those who have applied, been reviewed, and are now ready to begin. It contains all of the organizational details for our team meetings, content, downloads, and community support.

3 
PRACTICE
Once you have completed the training, you will be invited to co-host one or more regular circles. Over time we will provide feedback, get to know you more, and understand your style. Gradually, you will begin taking the lead host role, as we become confident in your skill as a host. When the team feels you are ready to host your own circle, you will be added to the schedule.
Basic Requirements for Hosting
Must be able to hold space professionally, respectfully, and with compassion

Capable of hosting using zoom, or willing to learn how (which zoom room you will use will be discussed in further training)

Reliable internet connection and equipment

Able to commit to your hosting time (regular or limited)

Punctual start and finish

Able to moderate groups of people online, particularly with emotional topics

Willing to follow the structure, guidelines, and advice of TYPM

Understand this is a volunteer position to offer safe space, not a paid job, networking event, or marketing opportunity

Willing to have a co-host, "peer buddy" to help host and as a backup in case of last-minute changes or delays

Know yourself enough to understand your boundaries, self-care, and projections as it pertains to holding this space

Comfortable being part of a team and gracefully receiving feedback
Time Commitment
Circles are held (generally, some exceptions) for 90-120 minutes

Recurring circles should be held on the same day and time examples include; 1st Tuesday of the month at 3 pm, every Tuesday at 3 pm, every other Tuesday at 3pm

Set aside time for reflection of circles

Set aside time to read feedback forms or comments

Attend regular host peer meeting for hosting practices, collaboration, and organization

Attend sharing and integration circle for TYPM Circle Hosts to ensure you have continued support as you hold space

We honor your time as a volunteer and want you to volunteer with joy! You can be a host as long as you like. We have no minimum commitment for hosting. 
FAQ's
I already host a circle.How do I promote my circle through TYPM? We are currently creating a resources area for more circles that are not help by TYPM. You can email us at TYPMSharingCircle@gmail.com
What if I can't make the meetings? From time to time we will do a poll to ensure the meeting is at the best time for the most people. If you miss a meeting, the notes will be available for review, as well as the communication in the group chat. You can also check in with a fellow host for more insight into what you missed. 
What if I'm not good with technology? We will help you to learn the technology necessary for hosting and your co-host will be a support for any technologically difficulties.
I don't know how long I will be able to host for. Should I start the training if I can only host for 6 months? Yes! We encourage you to start the training even if you can only host for a short time. We feel strongly that the training is useful as a guide and tool for your own integration and will contribute to space you hold in the future. 
How long will it take for me to lead my own circle? This depend on you and us. We all need to feel comfortable and confident. The more you engage, practice, and absorb the training the more confident we believe you will be as a host. You are welcome to suggest specific circles now and team up with a current lead host.

What if I only want to co-host?

Great! We have a strong need for co-hosts. This helps us when schedules change or life events occur. 
I'm not sure I want to be a host yet, how can I make a decision? Join more circles as a participant. See if you like the space and circles are where you would like to spend more time. Feel out the other hosts and make a connection. You can ask them why they chose to be a host and explore your own reasons. 
How can I support the cause and help #TYPM in other ways if I do not want to be a host? Thank you for your support. You can let people know about the circles through social media and sending them the sharing circles page. If you have suggestions for the sharing circles you can email TYPMSharingCircle@gmail.com. The TYPM Leadership Team supports several projects throughout the TYPM Community. Explore the website for more information and reach out to the leadership team with specific interests.
READY TO APPLY?
Complete the application form below. The TYPM Sharing Circles Team will review your application and contact you with the next steps.
More questions? email TYPMSharingCircle@gmail.com